Court Services Victoria Annual Report 2022–23 Released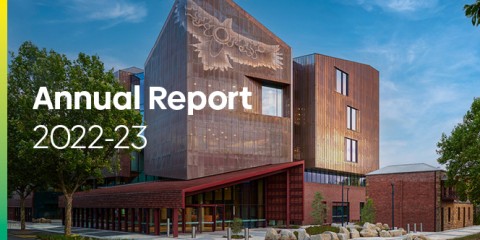 The Court Services Victoria Annual Report 2022-23 was released on Wednesday 1 November 2023.
Set against a backdrop of progress and change, the 2022-23 Court Services Victoria Annual Report outlines the work undertaken to support Victorian courts and tribunals.
In the opening message of the report, The Honourable Anne Ferguson, Chief Justice of the Supreme Court of Victoria, and Chair of the Courts Council said:
"Court Services Victoria continues to evolve, in part because of what we have learned in recent years about responding to changing circumstance and also because of our commitment to making positive changes for the future."
Highlights of 2022-23 include:  
Opening of the new multi-jurisdictional Bendigo Law Courts and specialist Children's Court in Dandenong; expansion works at the Sunshine Law Courts; and the development of Wyndham Law Courts; which all prioritise community focus and cultural safety
Release of our Koori Engagement and Consultation Framework, which will guide engagement with Koori stakeholders on programs and initiatives that impact Community
Implementation of key initiatives from our Gender Equality Action Plan, demonstrating our commitment to creating psychologically safe and inclusive workplaces
Delivery of future focused, people-centric technology and solutions, including digital wayfinding at Bendigo Law Courts, an online caseload dashboard and the first stage of the Case Management System Portal, which improve community access to justice.
Tabled in Parliament on Wednesday 1 November 2023, the Court Services Victoria Annual Report 2022-23 is available to download from this website.
Related content
Related publications
This page was last updated: Friday 3 November 2023 - 2:34pm