Shepparton Law Courts Officially Opened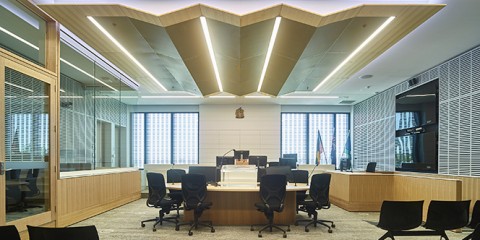 The new Shepparton Law Courts was officially opened on Friday 23 March by The Honourable Martin Pakula MP, Attorney-General, in the presence of the Chief Magistrate, His Honour Judge Peter Lauritsen.
Court Services Victoria Chief Operating Officer Brian Stevenson said, "The new $73 million building sets the standard for future regional court buildings, supporting the functions of a modern multi-jurisdictional facility that will contribute to improving access to justice for the Shepparton community."
The design aligns to the Court Services Victoria Strategic Asset Plan priorities of ensuring that Victorian court and tribunal buildings are modern, technology enabled, safe, secure and sustainable. The purpose built court supports the needs of all jurisdictions and provides more accessible and responsive services for regional Victoria. The design enables the Supreme, County, Magistrates', Children's and Coroner's Courts, and the Victorian Civil Administrative Tribunal, to hold sittings locally. 
The five level building features six main courtrooms with the capacity to vary their use to meet caseload requirements, and also provides dedicated courtrooms for higher jurisdictions complete with a jury box, custody dock and space to accommodate up to three judges.
 
The design aspirations for the courthouse were to create an architecture that reflects the values of an open, transparent and accessible justice system. Public waiting spaces and courtrooms are generous in scale, calm in character, filled with abundant natural light that connect seamlessly with country.
Safety is a key feature of the building with entry screening equipment, Court Security Officers and separate areas for opposing parties. The building includes 23 multi-use interview rooms and break out spaces that are available for use by a range of clinical, legal and voluntary service providers.
"Shepparton now has a new, open and welcoming courthouse that will improve the community's access to justice. Court users and support services will have access to dedicated spaces to discuss issues privately; the Koori Court room has been expanded; victims of crime and vulnerable witnesses will have separate safe waiting areas; and court staff have larger and safer amenities in which to work," said Mr Stevenson.
The State Government funded building is the first major construction project managed by Court Services Victoria, with direction from a multi-jurisdictional steering committee led by Chief Magistrate Lauritsen. 
The new Shepparton Law Courts will open to the public on Tuesday 3 April, with the commencement of court sittings.
More information about the Shepparton Law Courts is available on the Sheparton Law Courts Project page.
This page was last updated: Tuesday 8 May 2018 - 6:54am