Recruitment and Working Arrangements Report released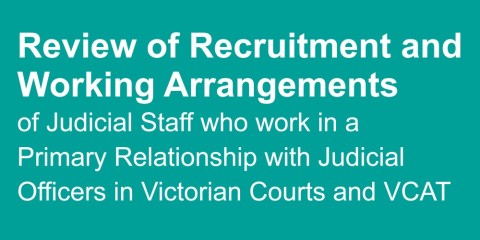 In 2020, the Review into Sexual Harassment in the Victorian Courts and VCAT was tasked with considering measures to prevent sexual harassment, improve reporting and support for those who experience it, and increase awareness and accountability.
Following the completion of the Review led by Dr Helen Szoke AO, a Report was released in 2021 which set out 20 recommendations for reform.
Recommendation 4 from the Report was for Court Services Victoria to commission an independent expert to review and make recommendations on the recruitment processes and working arrangements for staff who work in a primary relationship with judicial officers. 
The Hon Julie Dodds-Streeton KC, assisted by Jack O'Connor, was engaged to undertake this review. Ms Dodds-Streeton is a former Judge of the Supreme Court of Victoria and the Federal Court of Australia and has undertaken investigations into judicial conduct including alleged sexual harassment.
The Report contains 27 recommendations, a number of which align with and expand on the recommendations of the Szoke Review. The recommendations have been endorsed by Courts Council in accordance with their continuing commitment to preventing sexual harassment and providing a safe and respectful workplace.
Read more and download the Report on the Review of Recruitment and Working Arrangements page.
This page was last updated: Tuesday 18 October 2022 - 9:18am