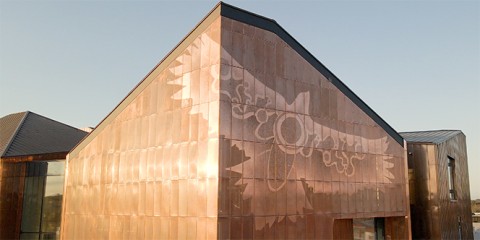 Court Services Victoria marks a milestone in the construction of the Bendigo Law Courts, with the installation of copper artwork to the building representing Bunjil, Dja Dja Wurrung's ancestral creator being and knowledge-keeper. 
Positioned on the facade of level four, Bunjil envelopes the purpose-built Koori Court's waiting area in the new facility, a statement of 60,000 years of living culture.
Artist Racquel Kerr described Bunjil's significance, saying "Bunjil helps us to understand our connection to each other...his stories relate to the landscape, culture, traditions, and laws to follow".
John Wardle Architects and landscape architects ASPECT Studios worked closely with DJAARA to bring culturally appropriate expressions to life in the future court's design and to create a culturally safe space.
DJAARA CEO Rodney Carter said "Bunjil is an important part of Dja Dja Wurrung Peoples' philosophy...In this modern day, it is vital that Dja Dja Wurrung People see representations of Bunjil in the landscape". 
Dja Dja Wurrung Country, the greater Bendigo region, contains ancient song lines of creation connecting the present, past, and future.
As work on the new court by builders Kane Nicholson Joint Venture continues in the lead up to a 2023 opening, more artistic elements will be installed throughout the building, connecting it to traditional lands and waters.
This page was last updated: Thursday 13 October 2022 - 11:25am