Bendigo Law Courts Wins Architecture Award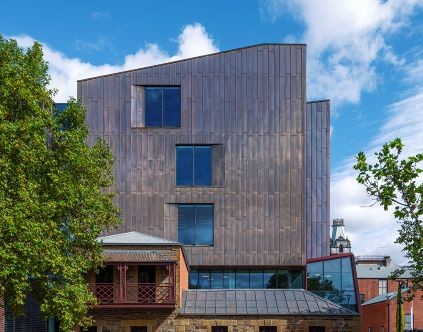 The Bendigo Law Courts has received the William Wardell Award for Public Architecture.
Shortlisted in the Australian Institute of Architects' Victorian Chapter awards in five categories, the courts were selected from 130 prominent designs such as the Victorian Heart Hospital and Queenscliff Ferry Terminal.
The distinctive civic presence was acknowledged as one of the most interesting and unique.
Designed with users, for users, the Bendigo Law Courts is designed and equipped for operational excellence with functional multipurpose spaces; advanced technological capabilities; robust sustainability credentials and scope to further respond to changing needs. 
The project was acknowledged for a bold environmental sustainability agenda, engaging with Dja Dja Wurrung Traditional Owners and local trades to deliver a project that is "a beacon for reconciliation and longevity", and received a commendation is the Sustainable Architecture category.
AIA State Manager Daniel Moore said "they're using materiality to make sure that it still speaks towards what's surrounding it ... even though you're talking about a law court, it actually tries to break down some of the harshness of what is actually taking place in these spaces."
Built over five levels, the building has nine courtrooms, two hearing rooms, two mediation suites, remote witness facilities, safe waiting facilities, dedicated jury areas, and meeting rooms for support agencies and client services.
The courts service the Magistrates' Court of Victoria, Children's Court of Victoria, and the Victorian Civil and Administrative Tribunal, as well as the County Court of Victoria, Supreme Court of Victoria, and the Federal Circuit and Family Court of Australia, on a circuit basis.
Wardle's Meaghan Dwyer said, "Connections with the built, regional, and cultural heritage firmly anchor the new Bendigo Law Courts as part of, and for, the community."
Celebrating Victoria's top honours for architecture, the 2023 Victorian Architecture Awards were revealed at a ceremony hosted by the Victorian Chapter of the Australian Institute of Architects on Friday 16 June. Projects that received an architecture award or a named award will now progress to compete in the National Architecture Awards program, announced in November.
This page was last updated: Tuesday 20 June 2023 - 2:22pm